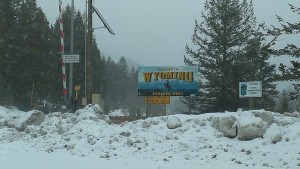 Wyoming touts itself as being the Wild West.  It is surely in the middle of nowhere, has the second lowest population density among the States.  Wyoming is a great opportunity to just get away from it all.  I met folks from Florida, Georgia, Massachusetts , and Wisconsin….all just getting away.
While Jackson Hole was a good time, I don't have much of a need to go back.  The population density of Jackson Hole is significantly higher than that of the State of Wyoming.  While JHMR has some of the craziest in-bounds terrain of all resorts that I've been to, unless you catch it on a true powder day (10 inches or more) or you're just a friggin nut, or you like to earn your turns in the BC, JH just isn't worth all of the travel effort.  That being said, the views are amazing and there are some great opportunities to see animals.  When my friends headed back to SLC, I stayed in JH for an extra two days.  I stayed at a great place called the Rustic Inn and got a room (which was actually a very nice hotel room in its own cottage.)  It was situated along Flat Creek and I woke-up to a few neighbors hanging around.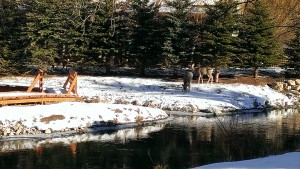 I took the opportunity to check-out Grand Teton, but didn't really feel like doing too much hiking in the snowpack.  Hiking will come in May!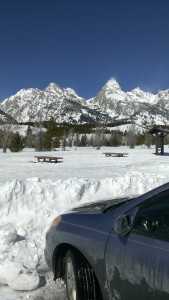 The afternoon was spent using-up my Mountain Collective Pass at JHMR.  I had paid for the day so I probably should use it.  The views from atop Rendezvous Mountain were quite tasty on such a sunny day.
Corbett's did not look nearly as Tasty.  Having had little snow over the past I don't even know how long, the 20-ft drop was not something I wanted to entertain.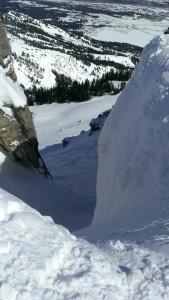 There were some mellow runs with a few stashes to still be had.  Unfortunately, these were on the lower 1/2 of the mountain, directly facing the March Sun.  Powder, it surely was not, but it was soft and smooth…..like butter baby!
On the way back to my cottage, I spotted a Moose hanging out in someone's backyard.  I made a u-turn and got a few nice shots.
The next morning a few snow showers started falling so I enjoyed the hot tub before trekking back to SLC for, hopefully and finally a legit Powder Day!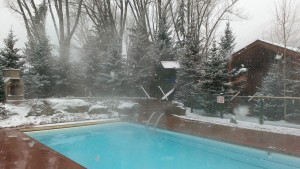 As I left town, I found humor in the fact that I was pumping gas, wearing shorts on a snowy day in Jackson, WY.  It seemed fitting as the first day of Spring.