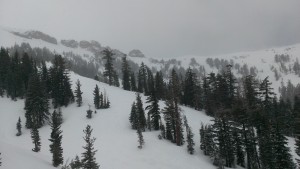 I left SLC on Monday and headed to a terribly sunny South Lake Tahoe for a few weeks  of hoping and praying for snow.  What I encountered was limited snowfall, but great opportunities when it did fall.  One thing that is nice about riding in the Spring…..(Late March-April) is that when the weather is nice, it is really nice!  Unfortunately, when the weather is showing precipitation, then the snow may or may not be significant ….or it could be rain.  At Kirkwood, about 40 miles South of South Lake Tahoe, the weather makes for some splendid opportunities.  If it is going to snow in the Sierras, there is the greatest chance that a large snowfall will lay upon Kirkwood.  While "The Wall" is the coveted run at Kirkwood, two lesser-known, but equally as spectacular runs can be had on the "Backside."
The first option is the frequently pursued "99 Steps."  Once the backside opens people are lined-up to attack "The Wave or "Hully Gully."  However, those willing to do some work take the brief hike (probably a few more steps than 99) up Thimble Peak.  After walking out past the peak just a bit, there is a nice open bowl that provides some nice fresh turns before getting amongst the masses.  If you Search you just might find a little spine.
The Other option, one that might be a little more serene and secluded is Covered Wagon. Kirkwood has a tow-rope that takes riders close to the top, but you can hike out a little further and get some nice runs. Ski Patrol does some snow management in this area as it has been known to slide. It is very much advised to stay IN Bounds! Many dip-out into the slack-country, but it is not an advisable risk. Be careful at the drop as there are a few rock bands that can be nice drops our could really screw your day up! Once you get past this it is a great, peaceful run through Fawn Ridge. Stay to the right for a while, but start leaning left once the ridge starts cresting, otherwise you may be hiking out.
Eventhough Kirkwood had to get bought by Vail in 2012, it is still one of the best mountains to ride the U.S.